FJXHB1 Pneumatische Hitze-Presse-Maschine T-Shirt Sublimation-Drucken-Maschine
Produktbeschreibung
Produkt-Beschreibung FJXHB1 pneumatische Hitze-Presse-Maschine T-Shirt Sublimation-Drucken-Maschine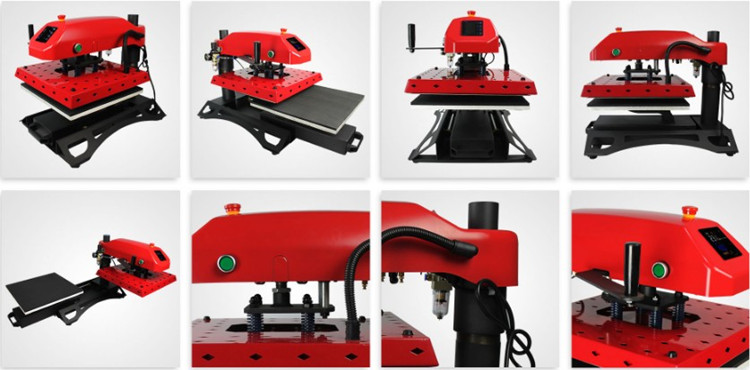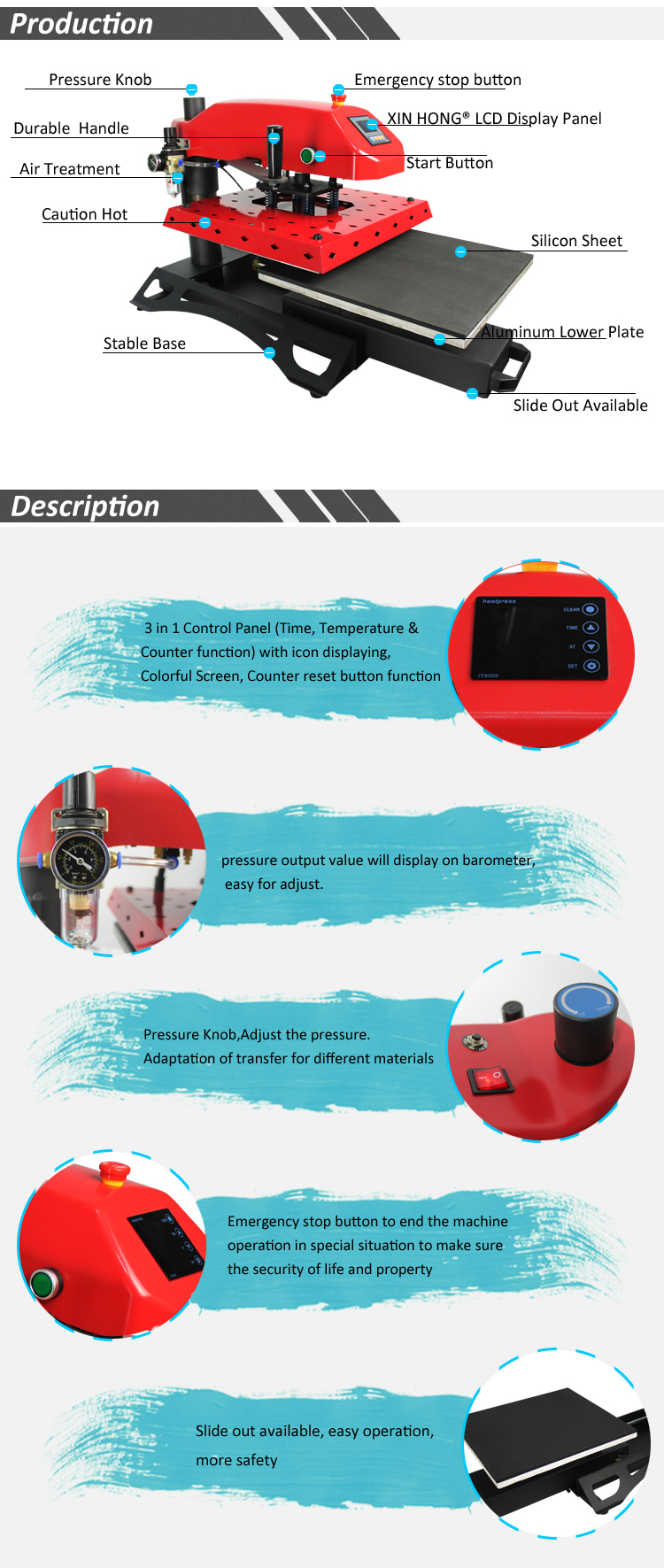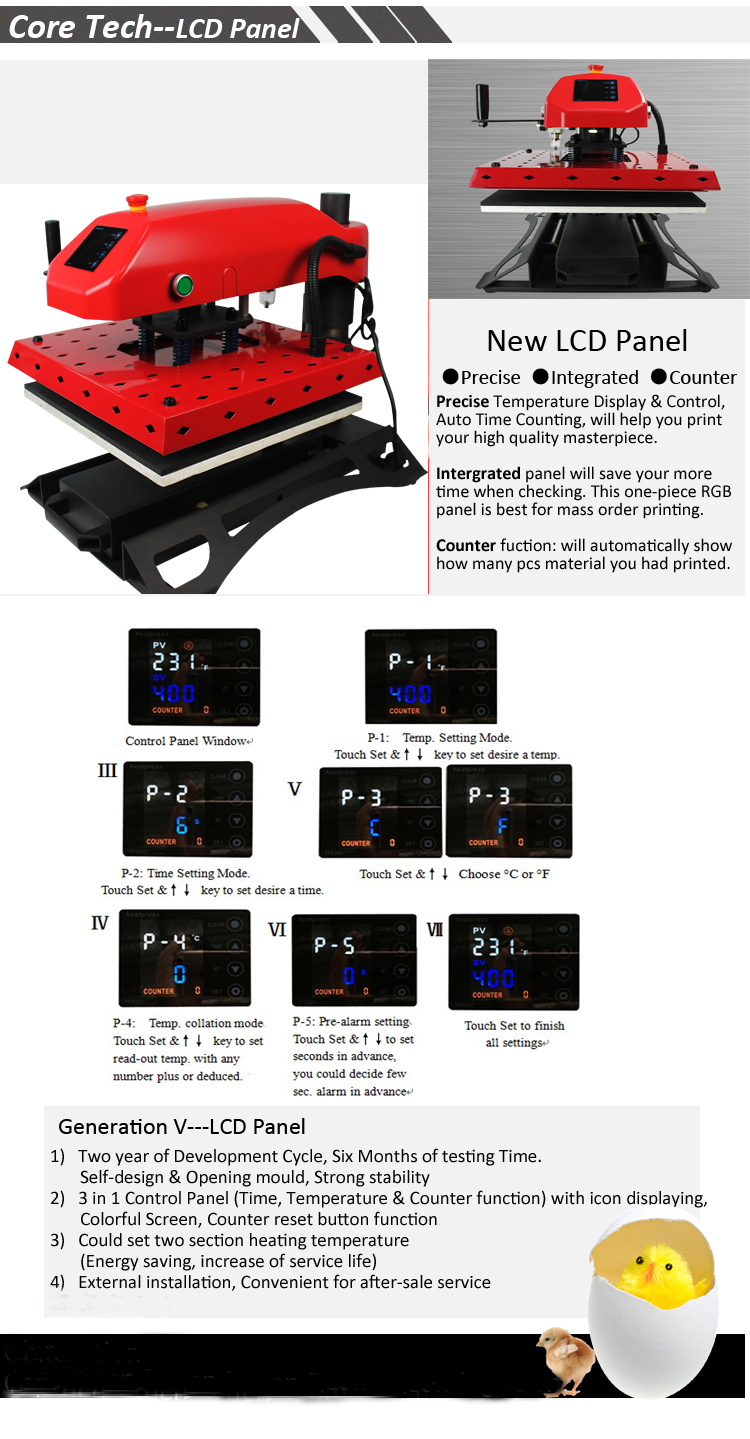 | | |
| --- | --- |
| Item Name | Heat Press Machine (Pneumatic) |
| Model: | FJXHB1 |
| Application: | Garments, Shoes, Sleeves, Mouse Pad, Rhinestones, etc. |
| 110V/60Hz: | 15"x15"---P=1.3kW, I=11.6A,  16"x20"---P=1.6kW, I=14A |
| 220V/50Hz: | 15"x15"---P=1.3kW, I=11.6A,  16"x20"---P=1.6kW, I=14A |
| Control Panel: | RGB Control Panel: |
| Platen Type:  | Die Casting Aluminum Heating Element |
| Silicon Pad:  | 380*380*8mm, 400*500*8mm |
| Surface Painting:  | Environmental Friendly Powder Spraying |
| Handware Pieces: | Stainless Steel 304 |
| Temp. Range: |  0~250℃/485℉ |
| Temp. Difference: | 4~8℃ (Panel Read-out VS. Platen Real Temp.) |
| Packaging:   | 75.4*50*53.5cm Cardboard Packaging |
| G.W.:  |  63kg, 66kg |
| Certificate:  | CE-EMC, LVD, MD |
| Warranty: | 1 Year |
| Optional Platens:  | 13x13cm, 12x45cm, 18x38cm, 30x35cm, shoe platen |
| OEM&ODM Service:  | Support |
| Video Link:  | ?v=R7_Ujg8s4Bs |
Application:
T-shirt, Puzzle, Mouse Pad, Metal Board, Coaster, Slipper, Bag, Cushion, etc.
Features:
1. Solid steel framework & stainless steel hardwares.
2. Fully digital temperature & time control.
3. Automatic alarm, temperature & time recycle.
4. Teflon-coated thick heat platen, speed & even heater technology.
5. Pneumatic drive, labor saving and user friendly.
6. Sewing-away, slide-out working table, thick heat press supported.
Strict Quality Control:
1. Each single heating rod is tested before being casted in an aluminum alloy.
2. Each single digital time & temp controller is tested before assembling.
3. All heat press pass high temp. test (200°C) for at least 20 minutes before packing.
Xinhong's Promises:
Xinhong's original intention is to support any of our customers, could deal with their heat transfer the following warranty:
business without interruptions. So Xinhong offers FREE SPARE PARTS with quantity order and
the following warranty:
1. Free life-time technical support on all heat press.
2. One-year warranty on entire press machine & spare.
3. Five-year warranty on castings, welds.
4. Five-year warranty on heating plate.
5. Six-month warranty on mug, plate, cap heat press machine.
Extra Lower Platen Details: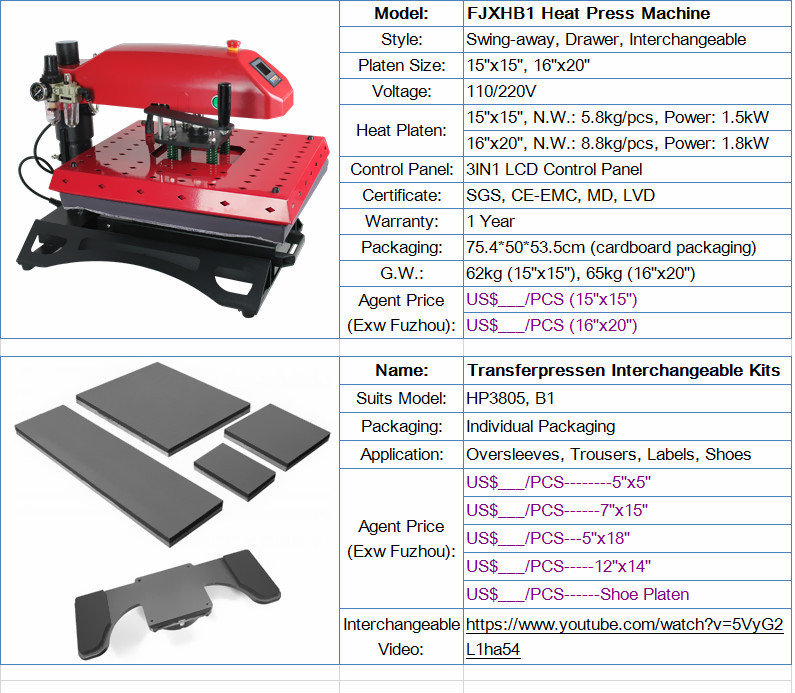 Firmeninformation
Fujian Xinhong Mech & Elec Co., Ltd wurde im Jahr 2013 von den Hauptaktionären der ehemaligen Fuzhou Lichang Industrial & Trade Co., Ltd, die Wärmeübertragung Geschäft seit 2003 begann gebaut.
Wir haben jetzt 13000 qm Fabrik, 9000sqm Werkstatt ausgestattet mit erstklassigen Maschinen wie importierte Laserschneidemaschine, CNC-Drehmaschine, hydraulische Biegemaschine, Rostreinigung und Power-Sprühen Ausrüstung, etc.
8 Elektroingenieure technische Teams unterstützen OEM & ODM Dienstleistungen, mehr als 60 Arbeiter garantieren gute Qualität Wärmeübertragung Maschinen in der Zeit!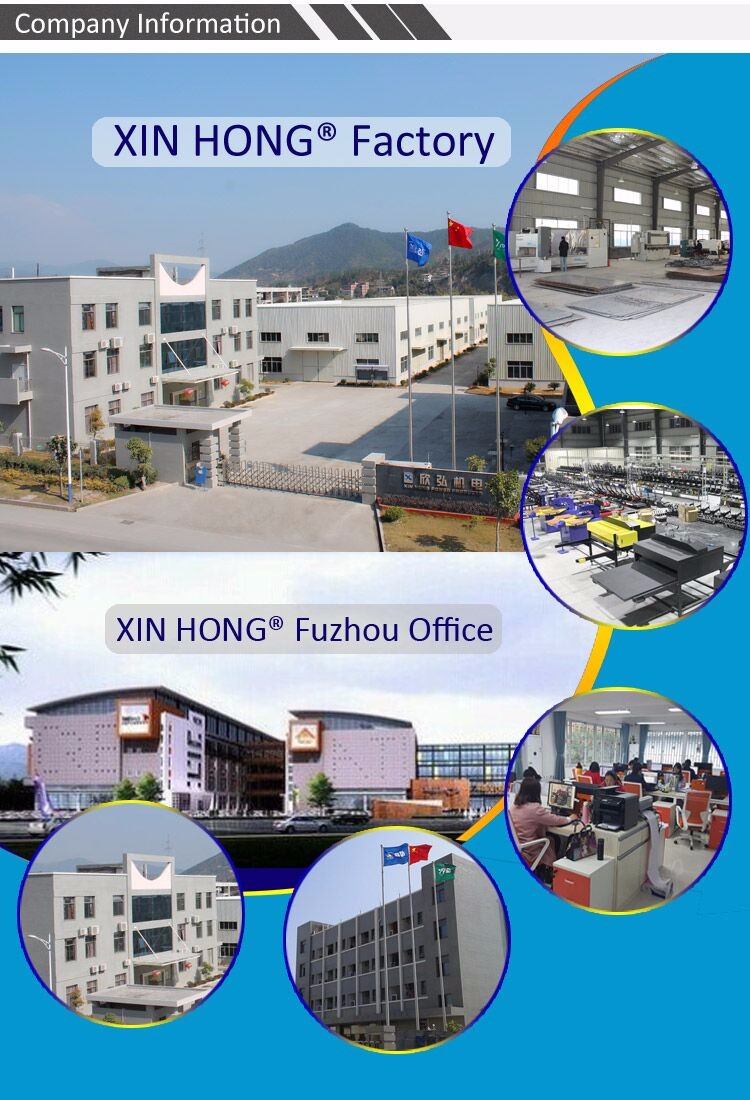 Unsere Dienstleistungen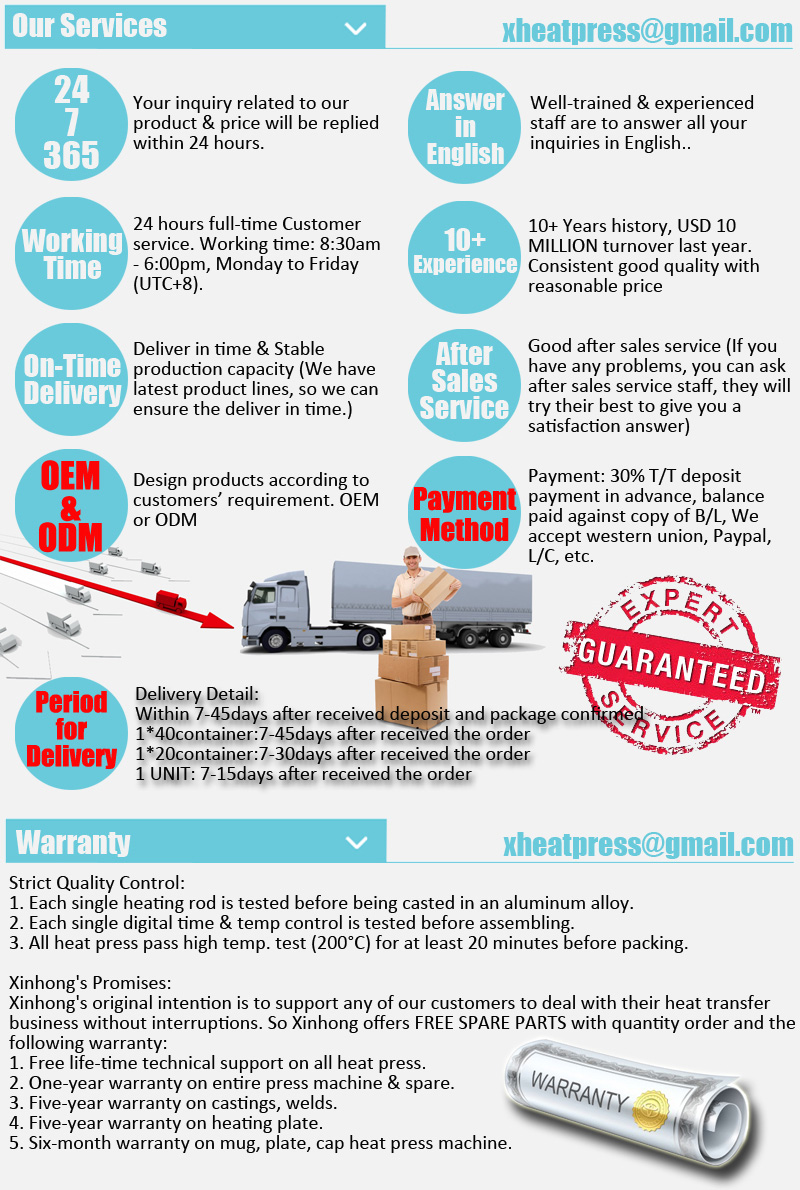 Verpackung & Versand
Verpackungsdetails:
Normale Standardgröße: 1 Stück / Standard Full-Wrapped Foam Package Karton (nach verschiedenen Spezifikationen).
Lieferumfang:
Innerhalb 7-25days nach empfangener Ablagerung und Paket bestätigt
1 * 40container: 7-25days nach empfing den Auftrag
1 * 20container: 7-15days nach empfing den Auftrag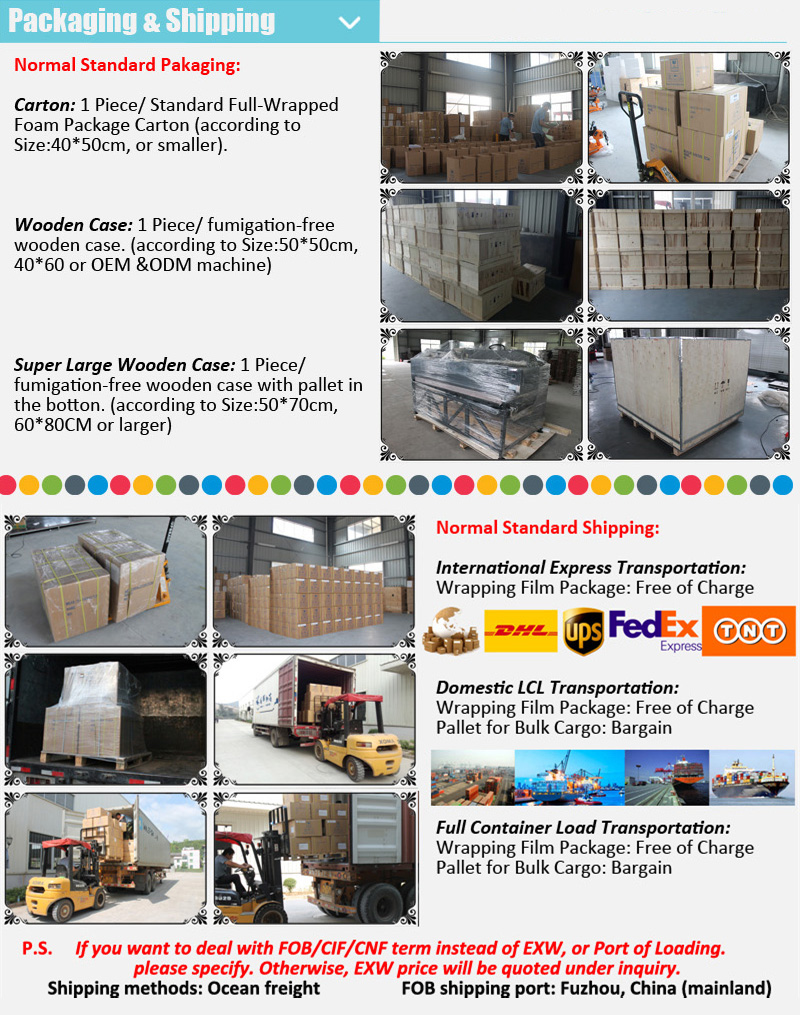 FAQ
Q: How could I get more discount & information from XIN HONG®?
A: Could you give me the account of online Chatting Software which you usually use to coumunicate with others? Therefore I can explain it to you more precisely.
Zoe Li / Senior Representative 
Whatsapp
:

 0086 15959150714  
Skype

:
 heatpress08
Q: Why Should we have to buy products from 

 

XIN HONG®?
A: Good quality control and on-time delivery. Fujian Xinhong Mech&Elec Co., Ltd is one of China's leading modernized manufacturer and marketer of heat press machines and related consumptive materials. Our company has passed ISO 9001, CE certification, etc
Q: How can I receive your goods?
A: When you order is below 100KG, we recommend DHL, TNT, UPS or other Air Express, Delivery Time: 1-3working day, Door to Door. If not, Sea Transportation is your best choice, and you should go to your nearest seaport to take your goods, Delivery Time: 30-40days.
Q: How could we become 

 

XIN HONG® 's sole agent?
A: Now, XINHONG are looking for greater cooperation with overseas customers. When your order meets our request quantity, It is our pleasure to invite you to become our sole agent in your country.
Q: Why are some Heat Presses being sold so cheap?
A: 80% heat press sold on Ebay, Amazon,etc is made in China. Even the St**ls, Se**bo have foundry in China. After all, China is the world's factory and keeps churning out thousands of new products every day, like ipad, iphone. You need to take care about certain sellers; Most important, you can hardly recognize which heat press is good or bad by searching the internet.  People always like to buy cheap product, so do the purchasing agent. That wild ambition pushes the Manufacturers cheating on workmanship and materials for meeting the requirements.
Keep your eyes open on the sale websites which only sell cheap heat press.
Q: How do similar looking Heat Presses compare to our Heat Presses?
A: Aesthetically speaking, some specific Heat Presses do look almost identical to our economic ones.   They also paint the Heat Press the same color of our type and hope they will be treated the same, but they are in fact not the same quality Heat Presses and just the economic ones.  The aesthetics may look almost identical, but the difference is under the hood; they are different to our economic ones with regards to the wires, true heat plate thickness, etc.  The heat plate thickness with their ones does not reach the good export standard.
We as a company offer best customer support by our trained staffs to ensure all your queries are dealt with care. If you need advice on what things you might need to setup for your new business, just give us a call and we can let you know which will best suit your need. What's more, we have support video with set by step instructions which you could follow and install it by your own self. Once setup, you are ready to earn big bucks!
So feel free to contact us through message.
Schlüsselwörter: Rosin Press, pneumatische Hitze Kolophoniumpresse, Hitzepresse, Hitzepressen, Hitzepresse Maschine, Sublimation Hitze Pressmaschine, Farbstoff Sublimation Wärmepresse, Wärmeübertragung, Wärmeübertragung Maschine, Hitze Seel Maschine, Hitze Presse Druckmaschine, T-Shirt Druckmaschine , Becher Hitzepresse Maschine, Kappe Hitzepresse Maschine, Platte Hitzepresse Maschine, 3D Vakuum Sublimation Hitzepresse Maschine. So erreichen Sie uns?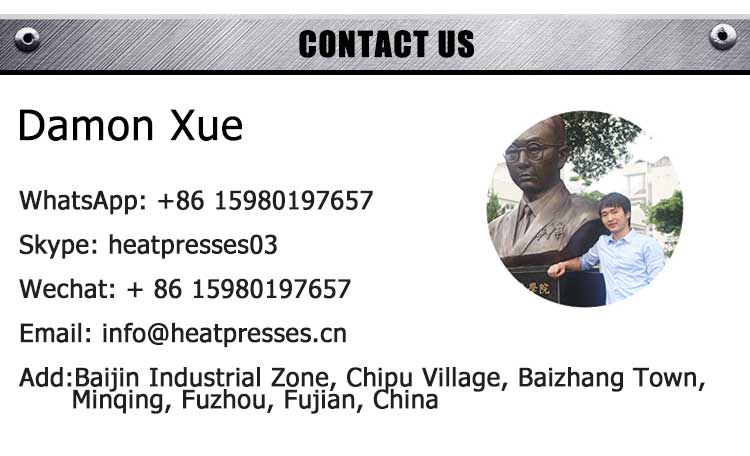 Produktgruppe : Pneumatische Transferpresse